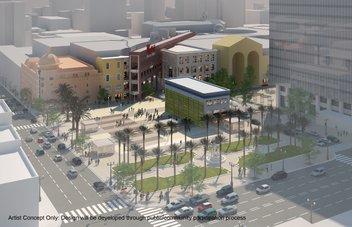 As I am sure you already know…we Downtown San Diego Condo and Loft home owners, business owners and residents has been given the opportunity to be apart of the design concepts for the new public open space at Horton Plaza. The last out of three meetings is to be held in the Gaslamp District where the design team will be giving a presentation. Come on down to Horton Plaza on Tuesday July 26th with start at 6.15pm.
The new space is presented by CCDC, that is working on behalf of the City of San Diegos Redevelopment Agency and Westfield Horton Plaza retail center. The corner of 4th Avenue and Broadway is being transformed into a world-class urban plaza comparable to Union Square in San Francisco or Pioneer Courthouse Square in Portland. Horton Plaza will be almost the size of an entire city block and will host more than 200 civic events and community celebrations every year.
The former Robinsons-May building will be removed to make room for the new plaza…and this will also provide more public open spaces and creating a lively cultural center for where we can host a variety of community gatherings, civic celebrations, outdoor concerts and performances, movies and farmers markets. The existing historic Horton Plaza, including its iconic fountain, will also be rehabilitated as part of this project.
To read more about this project click on CCDC and to read 92101 Urban Living's former blog click on Horton Plaza Park Expansion – Approved and Horton Plaza invites you to be apart of design concepts for new public space. ')}
//