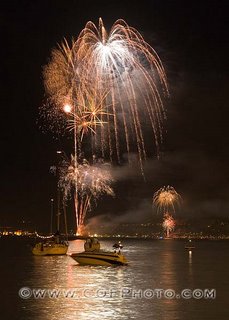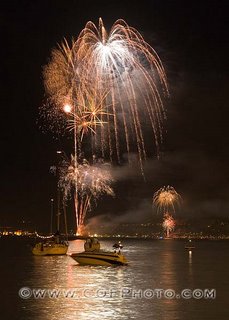 San Diego Bay is promising another spectacular display with its eight year in the row firework show on the Big Bay July 4th. Fireworks will be discharged at the same time from four barges placed strategically around the bay off Shelter Island, Harbor Island, the Embarcadero area and Seaport Village. Music broadcasted from FM radio station KyXy 96.5 will accompany the show.
The show starts at 9 p.m. on Friday, July 4th and can be viewed from almost anywhere around the Northern portion of San Diego Bay, as well as from Embarcadero Marina Parks North and South and Coronado Tidelands Park in Coronado.
To visit our former blog about the 4th of July celebration of 2008 please visit Fourth of July Celebrations
Below is a list on where to go:
Coronado Independence Day 9pm – Fireworks
7am – 29th Annual Independence Day 15k run and 5k walk
9am -The 45th Annual Rough Water Swim
10am – Coronado's Independence Day Parade
4-5:30pm – Spreckles Park will host patriotic music.
Escondido – 9pm Fireworks
2:00pm – 10:00pm – Celebrations at Grape Day Park
321 North Broadway and California Center for the Arts, 340 N. Escondido Blvd.
Fireworks Celebrations – 9pm
Chula Vista Yacht Harbor
Del Mar Fairgrounds
Kimball Park, National City
Memorial Park (Logan Heights)
Mira Mesa Community Park
Ocean Beach Pier
Poway High School
Ramona High School
Julian – Cleveland National Forest
Noon – Parade
The American Legion hosts a barbeques at 2nd and Washington Streets.
Legoland – 8pm
Independence Day of celebration to include a life-size "Old Glory." The 7200 brick creation will weigh in at 150 pounds upon completion, measuring more than eight by four feet.
La Jolla Cove – 9pm Fireworks
Fireworks can best be seen from La Jolla Cove, Scripps Park and La Jolla Shores Beach.
USS Midway! NEW!!!
View multiple fireworks displays from the deck of the USS Midway (San Diego Aircraft Carrier Museum). Lawn chairs, blankets and coolers with food and non-alcoholic beverages allowed.
Admission: adults, $12, children (6-17), $7.
Ship opens at 6pm for July Fireworks event.
Info: 619-544-9600 or www.midway.org
Navy Pier, Downtown – Fireworks
A patriotic salute, with Conductor Garbutt, the Sweet Adelines Chorus, Sun Harbor Chorus and Third Marine Aircraft Wing Band.

Rancho Bernardo HS – Fireworks
Rancho Bernardo High School
13010 Paseo Lucido
10am – Festivities kick off in Webb Park.
3:30pm – Parade begins at Bernardo Center Drive.
Sundown – Fireworks at Ranch Bernardo High.

Oceanside Pier – 9pm Fireworks
10am – 10pm – activities at Pacific Street and Mission Avenue, Oceanside Pier, Oceanside Yacht Club and at amphitheater. Parades, fireworks and a street fair.
San Diego Bay – 9pm Fireworks
7:30pm – Summer Pops Concert: A Salute to America
San Marcos Bradley Park
Independence Day Celebration includes food, music, kids activities and fireworks at 9pm.
Seaworld – 9pm Fireworks
4th SeaWorld Adventure Park Independence Day Celebrate with musical acts, extended hours and San Diego's biggest fireworks show.
Vista's Brengle Terrace Park
11am to 9:30pm – Food, entertainment, a kids carnival, fireworks and military displays.
9pm – Fireworks
Free shuttle is available from Vista High School.
')}