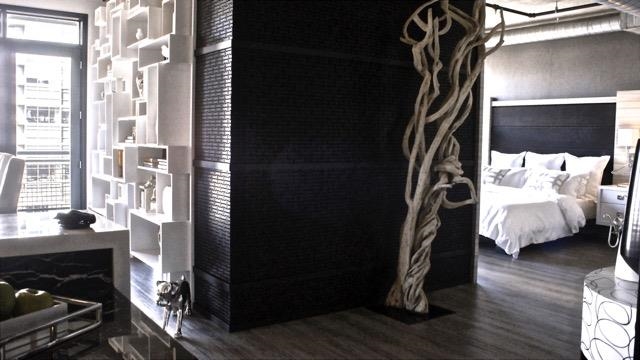 877 Island Ave # 810 Located in the Parkloft Complex – East Village
MLS: 150006236
Presenting a San Diego Loft properly to potential buyers is not as easy as it seems.   For most buyers interested in a loft…they have a pre-determined vision of what they are looking for.  As a result, listing agents are left with two choices.   The first choice is to present a "clean canvas" so the new buyer can execute their vision around the space.   An issue with this approach is that many buyers won't be able to match the vision with the value of the loft space.   The second method of presenting a San Diego loft is to display a "finished product" .  This method is a "turn key" design solution for the buyer.   The loft is complete with upgrades and furniture from the first day of ownership.
The Parkloft complex features luxury lofts in the East Village of Downtown San Diego, offering "warehouse" style loft floor plans.   Because these floor plans typically have no walls, they are the most difficult for a buyer to envision.   It has become more and more popular to present Parkloft units as a 'turn key" design solution for buyers.   The new San Diego Loft at Parkloft (Unit 801) is a perfectly executed and designed urban loft.
Located on the Northwest Corner of the ParkLoft complex, there is a wall of windows facing some pretty amazing city skyline views.   A whole wall of windows allows for positive light flow and night views of Downtown San Diego.   Absolutely every design detail of this San Diego loft has been well thought out and executed to perfection. Usually a classic wood tone, the Pela window moldings have been painted black to combine well with the ash grey laminate flooring throughout.   Raised paneled white walls add a luxury and elegant modern feel.   The design is contemporary and modern…but not cold.  The kitchen upgrades are exceptional and feature: Stainless Italian Appliances, Silestone countertops, and custom matte-black cabinetry.   A built in custom closet system both divides the bedroom and living space while providing all the storage needs for a luxury San Diego Loft.
Click here to view additional pictures of this beautiful San Diego Loft.  Please let us know here at 92101 Urban Living if we can help schedule a personal viewing of this beautiful San Diego Loft.
Listed By:  Brandon Hobbs of Harcourts Premier ')}